Frame materials
Titanium Bicycle – Carbon Fiber Bicycle – Cromoly Bicycle
Lennard Zinn has worked with many bicycle frame materials throughout his career at Zinn Cycles. Over the years, he has found several materials to provide the most performance and durability. Since the majority of Zinn Cycles' customers are very tall and/or heavy, it's very important for us to use materials that will hold up to the abuse of a large rider.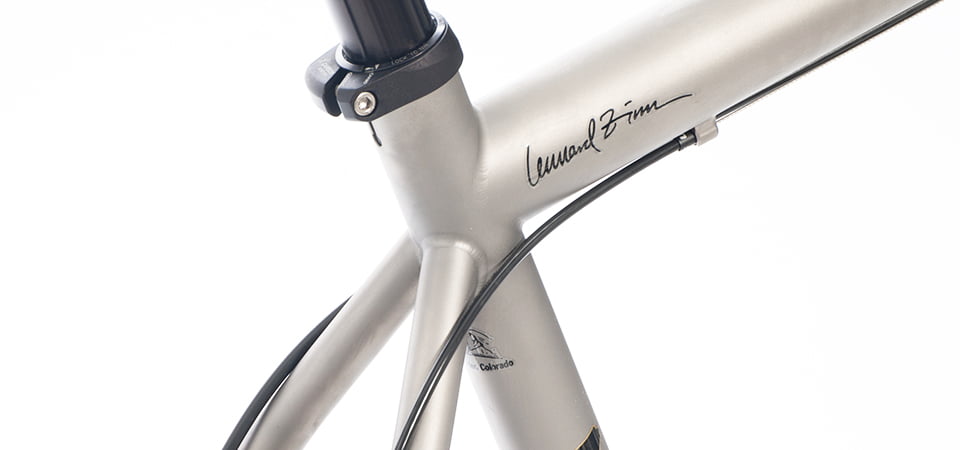 Whether titanium, carbon, steel, or aluminum, all Zinn frames are handmade by our top notch framebuilders using the highest quality equipment and technology. Every frame is quality controlled by the entire team and double and triple checked for quality.
We use only the highest quality materials available, and all of our tubing is produced in the United States. Each of our framebuilders has over 25 years of experience with their specialized materials, so you can be sure that the quality of your bike will be the very best.
Our welding is second to none, our tube fit-up is spot-on, and the design and tube selection specifically for you by Lennard Zinn will give you the fit, comfort and handling you desire. This is a bike that will truly last you forever, always giving you the ride of your life.
Titanium is half the weight of steel, so we can build a titanium bicycle with larger diameter tubing with a frame still lighter than steel, or we can build an extremely lightweight and compliant titanium bike for smaller people. We specify the exact tube dimensions for each customer so you get the best balance of strength, stiffness, durability, ride quality, and lightness. Larger diameter tubing provides greater strength and stiffness for greater power transfer, yet still with amazing compliance for a comfortable ride that doesn't beat up your body over a long trek. Titanium has enough strength and fatigue resistance to avoid the need for extremely oversized tubes, providing a compliant ride on rough surfaces that smooths out and absorbs road buzz and small bumps. Steel frames, with their smaller tubes, can be almost as compliant, but aren't quite as comfortable. A titanium bicycle frame can never corrode, unlike other metals. It can be painted or – unlike steel or aluminum – can be left without paint, powdercoat or plating, so you never need to worry about scratches. Internal cable routing is simple because the insides of the tubes are naturally impervious to rust and corrosion. Unlike aluminum, titanium has a fatigue limit, so as long as the tubing is not stressed beyond this limit or damaged, it will never fatigue. Titanium can also flex three times further than aluminum and twice as far as steel without permanent damage.
The Zinn Cycles Carbon Fiber bike frames are a testament to our dedication to superior design and construction quality. For years, customers have asked us, "Why don't you do carbon?". And the answer was that it was too big of an investment to make molds for each one-off custom bike frame. The new style of fabrication that now makes a custom Zinn carbon fiber bike not only possible, but truly amazing, is changing the way big and tall riders think about carbon bikes. Each tube and joint is hand made and bonded together using state-of-the-art techniques and the highest quality materials. The layup and dimensions of each tube, as well as the frame's geometry, are fully custom to Lennard Zinn's design for each individual customer. We can "beef-up" or "lighten-up" any section of the frame, and we are making carbon frames for any size rider. Ultimate durability has been realized on our carbon fiber bicycle frames, and every Zinn carbon bike frame comes with a lifetime warranty. We are excited about this addition to the Zinn line up and know that if you are big, tall, small, or anywhere in between, you will love a Zinn carbon fiber bike.
Steel is stronger and denser than titanium, aluminum, or magnesium, and the True Temper OX Platinum tubing we use has an incredibly high ultimate tensile strength of 217,000psi, giving it unprecedented fatigue life under high loads. Zinn steel frames also offer a rider of any size great performance and versatility at a great price.
While steel frames tend to be heavier than titanium or magnesium ones, our TIG welding method with a single strengthening gusset under the down tube offers great strength and longevity while still maintaining a reasonably light weight. A Zinn steel frame will provide a lifetime of great, responsive riding on your custom bicycle.
We use aluminum for our full suspension bikes and our custom cranks. Aluminum is easy to work with and form into very strong and lightweight tubes, which makes it perfect for a full suspension mountain bike. Aluminum can also be heat treated to reach the appropriate hardness and easily CNC machined into the small parts and pieces needed to build a great riding full suspension bike. There are many alloys of aluminum, each with it's own strengths. Our full suspension bikes are made from 6061 aluminum, heat treated to a T6 hardness. This makes for a very light, strong, and stiff frame with great corrosion resistance. Our custom cranks are made from 2024 aluminum which is extremely corrosion resistant. This makes it a great material for cranks since cranks are constantly getting scuffed and scratched while riding. 2024 is less brittle than other popular crank alloys such as 7075, which makes it less likely to develop fatigue cracks.
| | |
| --- | --- |
| Titanium | Road bikes, gravel bikes, E-bikes, hardtail mountain bikes, triathlon bikes, touring bikes, commuter bikes, cyclocross bikes, travel bikes with S&S couplers |
| Carbon | Road bikes, gravel bikes, triathlon bikes, touring bikes, commuter bikes, cyclocross bikes |
| Steel | Road bikes, gravel bikes, E-bikes, hardtail mountain bikes, triathlon bikes, touring bikes, commuter bikes, cyclocross bikes, travel bikes with S&S couplers |
| Aluminum | Full suspension mountain bikes |
Fatigue failure is failure that occurs after repeated cycles of stress, but at a stress that is less than that which would be required for the failure to occur with a single application. Cyclic loading is the key idea here; and we get plenty of that as we ride. The number of cycles to failure by fatigue decreases as the load is increased. This is where the big rider comes in – the rider we at Zinn Cycles specialize in building bikes for. However, metals can also fail at rather low stresses given many repeated cycles of stress. All metals other than aluminum have a "fatigue limit," which is the stress below which failure will never occur. With aluminum, failure can occur even at very low stresses, given enough stress applications.
Big riders are often very familiar with wearing out and breaking bike equipment. You go through tires much faster than lighter riders, your rear rim develops cracks at the spoke holes, and maybe you've broken spokes, chains, hub flanges, seatposts, saddle rails, saddle shells, crank arms, and even frames. To avoid breakage in use, big riders need to replace their weight-bearing bike parts more frequently than would a smaller rider.
Many big riders who go to bike fitters come away set up with longer pedal spindles to properly align the knees over the feet to account for wider pelvic structure, and the recommended saddle will often be wide as well. The stem will tend to be long and the handlebars wide, too. These adaptations "to make the bike look like the rider," as fit guru Andy Pruitt, director of the Boulder Center for Sports Medicine, often says, can significantly improve the rider's comfort and efficiency. However, there is a fatigue cost.
The use  of longer and wider parts results in higher loads for a bigger rider because they are cantilevered out further from their mounting points; this causes a higher rate of fatigue failure on those parts. A seatpost for a big and tall rider may be extended twice as far out of the frame and get twice as much weight put on it as a small rider's seatpost, and it will consequently be subject to a higher rate of fatigue failure. One rarely hears of a small rider breaking a seatpost, but many big riders have had it happen to them. The breakage may be attributed to hitting a bump, but that may simply be the straw that broke the camel's back; the cumulative stresses on the seatpost made it vulnerable so that the single, sharp impact snapped it off. Perhaps the seatpost would have passed a standardized lab fatigue test, but the loads applied and the amount of seatpost extension used in the lab test may be far less than the big rider might apply in use.
Similarly, a big, strong rider pushing on pedals with extra-long spindles screwed into long crankarms will be subjecting those cranks, as well as the spindles, to an extra high rate of fatigue failure. Consequently, the big rider should replace his cranks (and spindles) more frequently than a small rider would. This is the reason we allow our customers to upgrade their cranks at half price. Similarly, we offer a 10% discount to our bike customers on any weight-bearing part they replace on their bikes.
Bike riding is too much fun to have your ride ruined by suddenly breaking a part that has your full weight on it. Big riders particularly would do well to recognize that metal bike parts do not last forever. They have a lifespan, and there is wisdom in replacing them before they break. I have seen a number of owner's manuals for aluminum stems and handlebars that recommend replacement after three years of use. I think that's a good guideline for aluminum weight-bearing parts under big riders. For instance, I personally replace my aluminum handlebars after two years of use. Even with ideal maintenance, all components will eventually reach the end of their serviceable life, the length of which depends on conditions and intensity of use.
Are you ready
for your
dream bike?